In recent months, the museum's archaeologists have been carrying out a major study prior to housing construction at Lille Grandløse, in the southern part of Holbæk, after three-nave longhouses and fencing courses from the Iron Age were found in the test excavation.
However, when we started clearing the soil in October, as part of the actual archaeological study, the fields turned out to be hiding much more. We have now uncovered up to 15 house and fence constructions, including a nearly 40m long three-nave longhouse (K3), with preserved wall pillars and entrances, and two more very nice houses, one of which has roof-bearing walls (K4), and the other is similar the large house construction with roof-bearing pillars inside and beautiful preserved wall courses (K9). The houses can be traced back to the Early Iron Age, Viking Age and early Middle Ages based on their shape.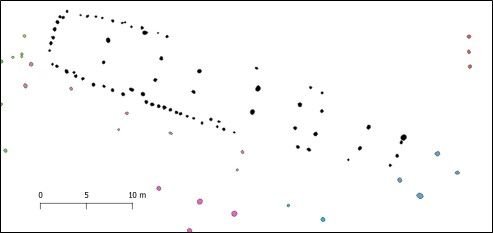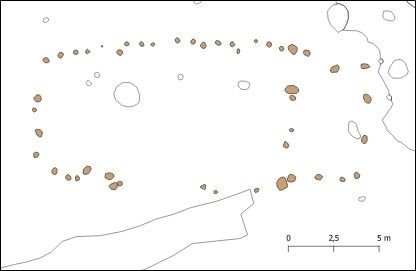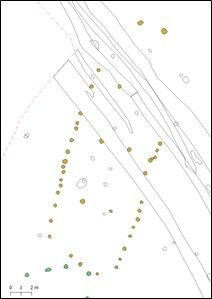 The fields also contain very beautiful and well-preserved ditches, some of which have served as boundary ditches and others as boy ditches that have led rainwater down to the depressions. Various pieces of iron have been thrown into the ditches, including nails and fittings, as well as a number of animal bones and a few ceramic fragments. A single Civil War coin has been found in one ditch, which can be dated to the early Middle Ages, as well as pottery with Baltic Sea ornamentation.
Lille Grandløse is today a small village on the outskirts of Holbæk, which has a Romanesque church that was built in the middle of the 1100th century, but the place name -løse can date back to the Iron Age. The new exciting finds shed light on important aspects of continuity and development in the transition between the Late Iron Age and the Viking Age settlements and the emergence of the early medieval villages, which are important both locally and at a larger regional level.
Under the soil there are also traces of people from the Peasant Stone Age (3900-1800 BCE). From here we have found a two-nave house that has been located close to a depression, with finds of flint objects from the period. Elsewhere in the field is a Neolithic ditch as well as a small cultural layer, which is also rich in flint objects and ornamented pottery. Finally, we have found a cooking pit field from the Bronze Age or the beginning of the Iron Age.
We are still in the process of investigations and at the beginning of next year, the last stage will start towards Roskildevej, which contains a larger field with even more cultural layers from the Stone Age and an activity site associated with the Iron Age-Middle Ages in the form of pits with handicraft waste such as slag mm
We look forward to embarking on the next stage of the new year.